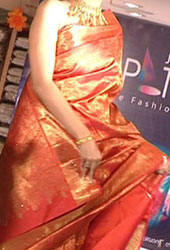 Silk, the queen of textiles dominates the textile industry with its lustre, sensuousness and glamour. The history of silk goes back to 4,500 years. India is the second largest producer of silk, contributing to about 18 per cent of the world production. It will be interesting to mention who is the first one.
Today, silk weaving tradition in India revolves around the sari, the ethnic traditional wear that is worn in most parts of the country. The Indians dress themselves in elaborate and colourful silk sarees on festive occasions. The vibrant colours, light weight, resilience and excellent drape etc. have made silk sarees, the irresistible and unavoidable companion of Indian women. Indian silk is popular all over the world with its variety of designs, weaves and patterns.
How are silk sarees manufactured?
Silk, one of the oldest known fibres is a protein fibre, produced by the silkworm by spinning around its cocoon. The entire process of starting from the eggs till the worms are grown up and cocoons are formed as shown in the diagram below. The silk farmers let the caterpillars that make the largest cocoons, to turn into moths. The moths then laid eggs and the eggs hatched out more caterpillars making even bigger cocoons. Over the centuries, the size of the cocoon has increased and silkworm cocoons are now much bigger than the cocoons of other caterpillars (see picture). At least half a mile of continuous thread may come from one cocoon.
The silk threads are then dipped in colour liquid and used for preparing the colourful silk Saree. Chinese are the ones who started the manufacturing the silk sarees.Out of the numerous species of silk moths, scientists have enumerated about 70 silk moths which are of some economic value. The four commercially known varieties of natural silk are (1) Mulberry silk (2) Tasar or Oak Tasar silk (3) Muga silk and (4) Eri silk.
Although the bulk of world silk supply comes from the silk moth Bombyx Mori which is domesticated, the other varieties of silk are known as wild silk, as they are grown in remote forest trees in natural conditions.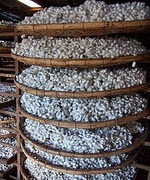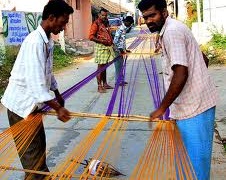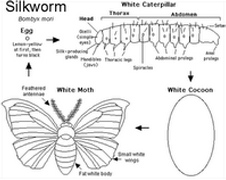 Mulberry silk
Comes from the silk worm "Bombyx mori" which feeds on the mulberry plant. In India, the major mulberry silk producing states are Karnataka, Andhra Pradesh, West Bengal, Tamil Nadu and Jammu & Kashmir.
Eri Silk
Also known as the Endi or Errandi silk is thick, warm, soft, rare and very long lasting. India is a major producer of Eri Silk. It is grown in Assam and eastern parts of India. It is also found in Bihar, West Bengal and Orissa. Eri silk is produced by Philosamia ricini that feeds mainly on castor leaves.
Muga Silk
The pride of Assam is known for its natural shimmering golden yellow colour. It is obtained from semi-domesticated multivoltine silkworm, Antheraea assamensis. These silkworms feed on the aromatic leaves of Som and Soalu plants. The muga silk, a high value product is used in products like sarees, mekhalas, chaddars etc.
Oak Tasar silk
Less lustrous than mulberry silk, Tassar silk is used mainly for furnishings and interiors. Tasar silk is generated by the silkworm, Antheraea mylitta which mainly thrive on the food plants Asan and Arjun. It is cultivated in the states of Jharkhand, Chattisgarh and Orissa, besides Maharashtra, West Bengal and Andhra Pradesh. A wide range of silk fabrics are produced at different production centers both Handloom and Powerlooms. A brief account of the range of fabrics is furnished below, as is known by its popular names.
(a) Plain Silk Fabrics
Fabrics ranging from 20 gm to 70 gm are produced in this category using both handloom as well as powerloom. The fabrics are available as per the requirements in different shades as well as in checks and stripes. Beautiful pin stripes are a specialty for shirting. Plain silk is mostly used by exporters for making ladies blouses, fashion garments, made-ups and scarves. Deluxe and super deluxe qualities are also produced as per specific orders.
(b) Dupion Fabrics
A specialty of Bangalore Handlooms, Dupion is the craze of the west. Produced out of twisted filature warp and dupion weft is available in different quality ranges and shades. Dupion checks and stripes are elegant in look. Mainly used for dress material and cushion covers and furnishings, Dupion is a popular name among the overseas silk importers.
(c) Charka Silk
Using filature in warp and Charka in weft a thicker fabric is made on handlooms. For most of the zari decorative sarees charka yarn is popularly used by the sari manufactures.
(d) Chiffon
Using highly twisted yarn, a thin but strong fabric is produced on power looms, which after processing and finishing attains a soft and smooth texture. Chiffons are used for varied end-uses for ladies garments and scarves/stoles.
(e) Chinnon
This is also produced from highly twisted yarn of filature in power loom. After the final processing and finishing the fabric gets a soft but crimp effect. Chinnon is ideal for ladies dresses and scarves/stoles.
(f) Crepe
Produced from 2-ply twisted yarn of's' and 'z' twist and woven on power loom, crepe is used for varied uses. Mysore crepe saris are very popular in domestic and export front.
(g) Organza
A very thin fabric produced from highly twisted yarn. After a starchy finish the fabric gets a rough texture. Organza is used as sari material as well as for embroidered garments.
(h) Satin
Silk satins are a popular variety of fabric used for a varied end use. When made into dresses, satin gives an elegant Look. Banarasi Satin Saris are popular for export and domestic markets.
(i) Tabby Silk
A type of plain silk fabric produced in Kashmir. Tabby silk is mostly used for printed saris and scarves.
(j) Murshidabad Silk
A popular silk fabric produced in the Murshidabad district of West Bengal. Used mainly for saris and scarves, the fabric is available in different qualities known as 16s, 18s, 20s, and so on.
(k) Matka Fabric
Using Matka yarn for both warp and weft, a thicker fabric is produced mostly for furnishing. The fabric mostly produced in Bhagalpur is a very popular export item at present. By using multiple yarns the texture and thickness of the fabrics can be modified according to the end use.
(l) Ahimsa Silk
usuma Rajaiah, of Hyderabad, has come up with an initiative to produce silk without the killing of silk worms.
The silk sarees of India are among the living examples of the excellent craftsmanship of the weavers of the country. Their mastery lies in the creation of floral designs, beautiful textures, fine geometry, durability of such work and not the least, the vibrant colours they choose for making sarees. Many states in the country have their own variety of makes in silk as well as weaving centres with their traditional designs, weaving and quality. The silk varieties are renowned by the place where it has been woven.
Banaras is one of the leading silk weaving centres in India. Amru silk, Jamvar, Navarangi, Jamdani etc. are the types of Banaras Saris, in which Amru Silk brocades with a heavy pallu of flowering bushes or the flowering mango pattern are very famous.
Maharashtra is famous for its Paithani Silk saris, generally with gold dots design and Kosa silk of Bhandara district.
Patola silk, known as the pride of Gujarat is noted for their bright colours and geometric designs with folk motifs.
Madhya Pradesh is famous for Chanderi, Maheshwari and Tussar silk saris. Specialties of these saris are the contrasting colours and depiction of animal and human figures on the sarees.
Silk Bomkai Sambalpuri saris from Orissa come in single and double ikat weaves. Murshidabad in West Bengal is the home of the famous Baluchari sari in which untwisted silk threadare used for weaving brocades. In the south, heavy silk saris from Tanjore, Kumbakonam and Kancheepuram in Tamil Nadu are known for their broad decorative borders and contrasting colours. Kancheepuram silks have an enviable position among the best silk sarees in the country for their texture, lustre, durability and finish. Kolegal and Molkalmoru in Karnataka are known for their simple ikat weave with parrot motif on the borders.
Sarees have been a passion for every south Indian female. With regard to the silk sarees in Tamilnadu, it got its name from the location where the sarees were waived. Like kancheepuram, aarani, thirubuvanam etc but now-a-days people look for more and more varieties. Hence thevendors started introducing new patterns in silk sarees, giving new names like vasthirakala, parampara, samuthriga, vivaha; bridal seven etc. Most of them are traditional silk sarees with additional stone work or added colourful embroideries in the silk sarees.
A wide range of ladies and men's wear like dupattas, sarees, salwars, Sherwanis, caps, handkerchiefs, scarves, dhotis, turbans, shawls, ghagras or lehengas, and even quilts, bedcovers, cushions, table-cloths curtains are made of silk. In short, Silk has been mingled with the life and culture of Indians.